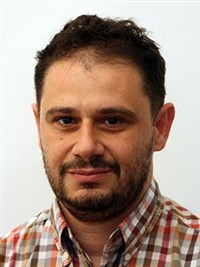 Lazaros Nalpantidis
Associate Professor
Elektrovej
Building: 326, x
2800 Kgs. Lyngby
Denmark
Lazaros Nalpantidis is an Associate Professor of Robotics in the Department of Electrical Engineering, Technical University of Denmark (DTU). Before, he was an Associate Professor of Cognitive Robotics at Aalborg University Copenhagen, Denmark, where he also served as Head of Section for Sustainable Production within the Department for Materials and Production. He holds a B.Sc. (2003) in Physics and a M.Sc. (2005) (with Honors) in Electronic Engineering from Aristotle University of Thessaloniki, Greece. He received a Ph.D. (2010) in Robotic Vision from Democritus University of Thrace, Greece. He has been a post-doctoral researcher at the Centre for Autonomous Systems (CAS), Computer Vision & Active Perception Lab. (CVAP) of the Royal Institute of Technology (KTH), Sweden. Lazaros organized and chaired the 10th International Conference on Computer Vision Systems (ICVS 2015) in Copenhagen, co-organized various workshops on Cognitive Robotics, and has served as editor and guest editor in various journals on robotics and robot vision. He has been involved in numerous research projects funded by the European Commission, European Space Agency, as well as Greek, Swedish and Danish states. His research is in the area of cognitive robotics, robot vision and machine learning.
Published

Research output: Contribution to journal › Journal article – Annual report year: 2019 › Research › peer-review
ISSNs: 0168-1699

Additional searchable ISSN (Electronic): 1872-7107

Elsevier, Netherlands

BFI (2020): BFI-level 1, Scopus rating (2018): CiteScore 4.36 SJR 0.95 SNIP 1.833, Web of Science (2020): Indexed yes, ISI indexed (2013): ISI indexed yes

Central database

Journal
Download as:
Download as: To download, please limit the number of search results to 1,000 or less.
ID: 170807017