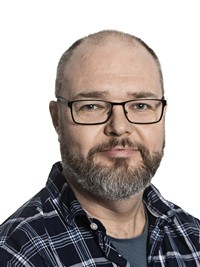 Peter Kjær Willendrup
Senior Research Engineer, Special Consultant
Technical project manager for the McStas project which is currently applied in simulation of neutron scattering instruments for the future ESS in Lund, Sweden. McStas is world leading in simulation of instrumentation for neutron scattering and virtual neutron scattering experiments. Participating instituttes are DTU, NBI, ILL and PSI.

Also involved in McXtrace which is an X-ray equivalent of McStas. Participating partners are DTU, NBI at KU, Life at KU, ESRF and SAXSLAB.

My position is affiliated with the NEXMAP section within DTU Physics. I am also the local representative of Danish Association of Masters and PhDs among DTU Physics employees at Risø Campus.
See also my CV at my personal webpage.
CV
Education
| | |
| --- | --- |
| 1992 - 2000 | Physics & Matehematics - University of Copenhagen |
Academic grades
Cand. Scient. (MSc.) in Physics
Ba. Sc. in Mathematics
Professional experience
| | |
| --- | --- |
| 04/2 - 05/2 | Research Assistant (NRU) - Rigshospitalet, Neurobiology Research Unit |
| 06/2 - 12/2 | Development Engineer (Risø) - Forskningscenter Risø, AFM |
| 01/2 - 12/2 | Development Engineer (Risø DTU) - Technical University of Denmark, AFM |
| 01/2 - | Development Engineer (DTU Fysik) - Technical University of Denmark, NEXMAP |
Languages
Danish, English, Swedish, German, French
Expertise
Neutron & X-ray scattering
Computational Physics
Computer Science
Data analysis
Project management
Software development


My links
My files
Published

Publication: Research - peer-review › Journal article – Annual report year: 2012

Published

Publication: Research › Sound/Visual production (digital) – Annual report year: 2012

Published

Publication: Research › Sound/Visual production (digital) – Annual report year: 2012
ISSNs: 0168-9002

Elsevier BV North-Holland, Netherlands

FI (2012): 1, ISI indexed (2012): yes

Central database

Journal

ISSNs: 0921-4526

Elsevier BV North-Holland, Netherlands

FI (2012): 1, ISI indexed (2012): yes

Central database

Journal

ISSNs: 1605-7422, 0277-786X, 0277-786X

S P I E - International Society for Optical Engineering, United States

FI (2012): 1, ISI indexed (2012): no

Central database

Journal
Latest activities and conferences
ID: 883500