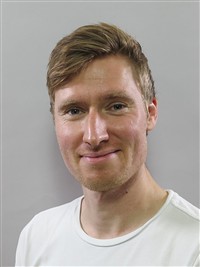 Martin Frederik Laursen
PhD student
Mørkhøj Bygade 19, Building D, Room 007
2860 Søborg
Phone: 35887024
Mobile phone: 28971241
Fax: 35887001
CURRICULUM VITAE

Martin Frederik Laursen

Cand. Polyt. in Biotechnology

Personal information

Date of birth:

January 27th 1988, Hospital of Hvidovre, Denmark

Civil status:

In a relationship with Christina Louise Funch Kofoed

Personal characteristics:

Social, creative, curious and sentient. Hard working, devoted, thorough and application driven.

Interests:

Running, athletics, sports, gastronomy, wines, music, nutrition and microbiology

Contact:

Hvidkildevej 5, 1. TV

2400 København NV

Denmark

+45 28 97 12 41

Education

2010-2013: M.Sc.Eng. in Biotechnology at Technical University of Denmark (DTU)

Grade average: 11.1

Master thesis: Effect of Lactobacillus plantarum WHE 92 on Listeria monocytogenes growth and gene expression.

Grade: 12

2007-2010: B.Sc.Eng. in Human Life Science Engineering at Technical University of Denmark (DTU)

Grade average: 10.1

Bachelor thesis: Impact of haptocorrin, a vitamin B12 binding protein, for the establishment of the intestinal microbiota in infants.

Grade: 12

2004-2007: High School student at Nørre Gymnasium

1994-2004: Mørkhøj public school

Work

May 2013 – June 2013: Research assistant at department of Systems Biology, Technical University of Denmark (DTU)

February 2011 – March 2013: Student worker at CMC biologics

March 2010 – September 2012: Student worker at the National Food Institute, Technical University of Denmark (DTU)

February 2011 - May 2011 & February 2012 – May 2012: Assistant teacher in course 27022 Biochemistry, Technical University of Denmark (DTU)

September 2010 – December 2010 & September 2011 – December 2011: Assistant teacher in course 27732 Human Nutrition, Technical University of Denmark (DTU)

2005-2008: Customer service assistant at Lærernes Indkøbscentral (LIC)

Publications

Jensen, H. R., M. F. Laursen, D. L. Lildballe, J. B. Andersen, E. Nexø, and T. R. Licht. 2011. Effect of the vitamin B12-binding protein haptocorrin present in human milk on a panel of commensal and pathogenic bacteria. BMC research notes 4:208.

Languages

Fluent: English, Danish

Intermediate: German
CV
Education
| | |
| --- | --- |
| 2010 - 2013 | Biotechnology - Technical University of Denmark |
| 2007 - 2010 | Technical Biomedicine - Technical University of Denmark |
Academic grades
Master of Science in Biotechnology
Professional experience
| | |
| --- | --- |
| 2013 - 2013 | Research Assistent (DTU) - Technical University of Denmark, Systems Biology, Bacterial ecophysiology and biotechnology |
Languages
Danish (native), English (fluent)
Expertise
My primary competances are within molecular and medical microbiology, gut microbiology and interactions between human pathogens and probiotic bacteria.
I have solid backgound knowledge about human nutrition, immunology and biochemistry.
Published

Publication: Research › Journal article – Annual report year: 2011
ISSNs: 1756-0500

BioMed Central Ltd., United Kingdom

ISI indexed (2012): no

Central database

Journal
Download as:
Download as: To download, please limit the number of search results to 1,000 or less.
ID: 52293