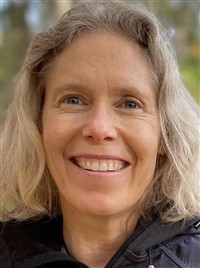 Kerstin Skovgaard
Senior researcher
Bülowsvej 27, Building B, Room B8
1870 Frederiksberg C
Denmark
Kerstin Skovgaard forsker i immunologiske processer under infektioner. Det gøres ved at undersøge hvordan og i hvilken grad forskellige geners aktivitet bliver op- og nedreguleret i en inficeret værts forskellige væv kort tid efter at en infektion har etableret sig. Konkret undersøger vi, hvordan kvæg og grise reagerer på forskellige typer af normalt forekommende infektioner, og gen-aktiviteten måles, som den udspiller sig under en infektion, ved at undersøge hvor store mængder messenger-RNA, der findes i cellerne til et givent tidspunkt. Senest har vi kortlagt sådanne responser fra dyr efter infektion med Actinobacillus pleuropneumoniae, som forårsager ondartet lungesyge hos svin og i cellekulturer isoleret fra kvæg med paratuberculose. Ved hjælp teknikker som microarray (DNA-chip) og real time PCR-analyser kan vi måle aktiviteten af flere tusinde gener på samme tid og dermed få et nuanceret billede af de immunologiske processer, der foregår under en infektion.
CV
Expertise
Research activities are focused on the innate immune system, the first line of defense against invading microorganisms. The expression of coding and non-coding RNA is characterised as response to infection or inflammation in livestock.
The goal is to perform research that facilitate discovery of new biomarkers for diagnostic, prognostic and monitoring uses, and pinpoint targets for future development of therapeutics entities.
Present activities include characterisation of the innate host response in pigs after infection with viral and bacterial lung pathogens as well as development and optimization of methods for identification, characterization, and quantification of coding and non-coding RNA in tissue samples, cell cultures, and blood.
Within the past year, we have optimized our high-throughput real-time quantitative PCR platform, Fluidigm. We have designed, validated, and implemented hundreds of primer assays for measuring the expression of a wide range of immune factors in pigs, cattle, horses, sheep, chickens, and mice.
Gene activity in lung infections
Animal models are essential in understanding the mechanisms involved in human infectious disease and for the development of effective prevention and treatment strategies. We and others have shown that induction of cough and fewer in influenza virus infected pigs were highly similar to what have been reported in humans within the first 3 days of infection. We aim at providing a better understanding of the involvement of circulating non-coding RNA and innate immune factors during influenza virus infection, and subsequently to pinpoint potential miRNAs as biomarkers for disease progression, by employing the pig as a large animal model.
Respiratory infections cause enormous economic losses to Danish and foreign pig producers. Recently, we have identified which genes are up and down regulated in lung, tonsil, liver and spleen after infection with Actinobacillus pleuropneumoniae; a Gram-negative bacterium causing an acute and very rapidly evolving pneumonia in pigs. We investigate the interaction between host and pathogen during the infection by measuring the expression of genes encoded by both organisms in the immediate surroundings of the invading pathogen, in order to get a more comprehensive understanding of the infection dynamics.
The transcriptional activity of immune factors including cytokines, pattern recognition receptors, and acute phase proteins as well as non-protein coding RNA (microRNA) is quantified during infection and inflammation. MicroRNAs are small single-stranded RNA molecules. They do not code for proteins, but they can regulate the activity of protein-coding genes. Expression of human miRNAs is well studied. However, expression of non-coding RNA and its importance for a well-performing immune response is considerably less studied in livestock such as pigs, horses, and cattle. We examine the role of non-coding RNA during influenza infection in the pig - especially in relation to its regulation of the pig innate immune system.
Accepted

Publication: Research - peer-review › Poster – Annual report year: 2015

Published

Publication: Research - peer-review › Conference abstract for conference – Annual report year: 2014

E-pub ahead of print

Publication: Research - peer-review › Journal article – Annual report year: 2014
Activity: Participation in conference/workshop/course/seminar › Participation in workshop, seminar, course

Activity: Participation in conference/workshop/course/seminar › Participation in workshop, seminar, course
ISSNs: 0165-2427, 01652427

ISSNs (Electronic): 1873-2534

Elsevier BV, Netherlands

ISI indexed (2013): yes, FI (2013): 2

Central database

Journal

ISSNs: 1753-4259

ISSNs (Electronic): 1743-2839

Sage Science Press (UK), United Kingdom

ISI indexed (2013): yes, FI (2013): 1

Central database

Journal

ISSNs: 2152-4971

ISSNs (Electronic): 1557-7457

Mary Ann/Liebert, Inc. Publishers, United States

ISI indexed (2013): yes, FI (2013): 1

Central database

Journal
Download as:
Download as: To download, please limit the number of search results to 1,000 or less.
Place of employment
Latest activities and conferences
ID: 642022