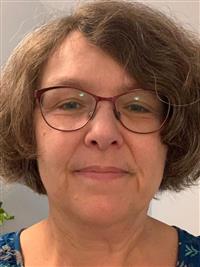 Kerstin Geitner
GIS Coordinator
Charlottenlund Slot Jægersborg Allé 1
2920, Charlottenlund
Research area
Use of GIS and spatial analysis in fisheries and aquatic science.
CV
Education
| | |
| --- | --- |
| Sep - Jan | Master in Biology and Geography - Roskilde University |
Academic grades
Professional experience
| | |
| --- | --- |
| Sep - Okt | Teaching Assistent - University of Copenhagen, Botanical Institute |
| Okt - Apr | Biologist - Roskilde County, Water and Environment |
| Nov - Dec | Trainee (NERI) - National Environmental Research Institute, Marine Ecology |
| May - May | GIS product specialist - InformiGIS, education and customer support, software development |
| Jun - | GIS coordinator (DTU Aqua) - Technical University of Denmark, Coastal Ecoloy |
Languages
Danish, German, English, Dutch, Norwegian, Swedish
Expertise
GIS qualifications:
At DTU Aqua, my primary GIS platform is ArcGIS, initially in version 8.x and now in version 10.x. The extensions I am working with are primarily Spatial Analyst, 3D Analyst, Geostatistical Analyst, Image Analysis and Tracking Analyst. Besides that, I am responsible for the ArcIMS server, where there are several ArcIMS applications running. The page http://www.aqua.dtu.dk/Om_DTU_Aqua/Afdelinger/Faglige_stottefunktioner/GIS.aspx provides access to these applications. In addition, a short introduction to some of the projects that I have been working with at DTU Aqua over the last years can be found on this page. (in Danish only). Regarding Remote Sensing, I have a good knowledge to Chips for Windows and ERDAS Imagine. I have worked with ENVI and BEAM. I have completed the courses Remote Sensing 1 and 2 at the Institute of Geography at Copenhagen University.
My knowledge of other Geographical Information System Software includes MapInfo, Idrisi, GRASS and Osumap. Other GIS related software that I have been working with includes EVS-PRO and Voxler, both programs that are used for 3d visualization of geographical data.
Other IT qualifications:
I master both different software for word-processing, spreadsheet and image editing at an advanced user level. I have good experience with different database software, including Access, MS SQL Server and ESRI's SDE for databases. Furthermore, I have been working with XML, XSL, HTML and MS Visual Basic.
International experience
Participation in EU financed projects:
BALANCE "Baltic Sea Management – Nature Conservation and Sustainable Development of the Ecosystem through Spatial Planning"(BSR INTERREG IIIB program)
IMPRESS "Interactions between the Marine Environment, Predators and Prey: implications for Sustainable Sandeel fisheries" (5th framework QOL-2000-5.1.2.)
Participation in ICES working groups:
ICES Working Group Marine Habitat Mapping (since 2004).
My files
Published

Publication: Commissioned › Report – Annual report year: 2013

Published

Publication: Research › Conference abstract for conference – Annual report year: 2013

Published

Publication: Research › Conference abstract for conference – Annual report year: 2013
ISSNs: 1748-5487

GEO: Connexion Ltd., United Kingdom

ISI indexed (2012): no, FI (2009): 1

Central database

Journal

ISSNs: 1601-8796

Geoforum Danmark, Denmark

FI (2012): 1, ISI indexed (2012): no

Central database

Journal

ISSNs: 0304-3800, 03043800

Elsevier BV, Netherlands

FI (2012): 2, ISI indexed (2012): yes

Central database

Journal
Activity: Participation in council, board, committee and network › Membership in committee, council, board
Published

Publication: Commissioned › Report – Annual report year: 2013

Published

Publication: Commissioned › Report – Annual report year: 2012

Published

Publication: Commissioned › Report – Annual report year: 2012
Latest activities and conferences
ID: 521487