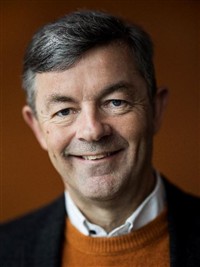 Jacob Steen Møller
Director of facilities
Nils Koppels Allé
Building: 402, 108
2800 Kgs. Lyngby
Denmark
Revised: 2011-06-09
CURRICULUM VITAE
Name
Jacob Steen Møller
Date of Birth
18 December 1954
Nationality
Danish
Education
Ph.D. Environmental Hydraulics, Technical University of Denmark, DTU, 1984
Basic military training, Corps of Engineers, Farum, 1981
M.Sc. Civil Engineering, Technical University of Denmark, DTU, 1980
Key competences
General management and leadership
Facilities Management
Management of research and education in civil engineering
Environmental impact assessment
Hydraulic engineering and applied oceanography
Appointments and elections
Realdania. Elected member of Board of Representatives, 2010-date
Danish Academy of Technical Sciences. Chairman of the Academy Council (Akademirådet) and member of The Executive Body, 2010-date
Realdania Centre for Facilities Management. Chairman of centre committee for 2007-10 and member 2010-date
Claus Anders' Foundation (Founder: Anders Kerrn-Jespersen). Special advisor for the board, 2010-date
KAB foundation, www.kabfonden.dk, Board member 2006-2010
IPU, www.ipu.dk, Board member 2007-2009,
Danish Enterprise and Construction Authority, EBST, committee on Innovation in Construction R&D, KIG, DTU representative 2007-2009
Danish Enterprise and Construction Authority, EBST, Partnership for Energy Efficient Building, DTU representative 2008-2009
Steering committee for national Construction Technology Platform ECTP-Denmark, www.ectp.org, Member 2004-09
ATV group 8 on "The future of the construction sector" Member 2006-08
Appointed Examiner, Aalborg University, Denmark, 1991-2003
Appointed Examiner, Technical University of Denmark (DTU), 1990-2003
Danish Advisory Committee for the EU 5th FWP Activity: Energy, -Environment and Sustainable Development, 1998-2002.
Danish National Council on Oceanology, 1997-2002
Danish EuroGOOS Member and co-founder of 1997-1999
Swedish Vattendomstol (Water Court) evaluation of the Øresund Link, Expert nominated 1994-1997
Steering Committee for final reporting of the Danish marine research programme "Hav90", 1996.
Danish Society of Hydraulic Engineering, Board member 1991-1995
Institute of Hydrodynamics and Hydraulic Engineering, DTU, Board member 1981-1984
Senate (Konsistorium) of the Technical University of Denmark, DTU, Member 1979
Polyteknisk Forening, Chairman 1979
Languages
Danish: Native
English: Excellent
German: Reads and understands reasonably
Spanish: Reads and understands some
Short courses
Several short management and ICT courses
Occupational safety and health at the workplace, 2004
DiEU, Economy for non economist, 1997
Memberships
Danish Academy of Technical Sciences, ATV, 2007- date
Danish Academy of Future Research, 2006 - date
The Society of Danish Engineers, IDA, 1980 - date
Danish Network for Research Managers, FL1, 2006 - 2009
CV
Education
| | |
| --- | --- |
| - 1981 | Basic military training, Corps of Engineers - Farum Kaserne |
| - 1980 | M.Sc. Civil Engineering - Technical University of Denmark, DTU, |
| - 1984 | Ph.D. Environmental Hydraulics, - Technical University of Denmark, DTU, |
Academic grades
M.Sc. Civil Engineering, DTU
PhD, DTU
Professional experience
| | |
| --- | --- |
| 1981 - 1984 | PhD student Research in environmental hydraulics. and arctic oceanography (DTU) - Technical University of Denmark, Institute of Hydrodynamics and Hydraulic Engineering, ISVA |
| 1983 - 1983 | Hydraulic Engineer - Greenex A/S mining company in Greenland |
| 1986 - 1988 | External lecturer (DTU) - Technical University of Denmark, Institute of Hydrodynamics and Hydraulic Engineering, ISVA |
| 1984 - 2003 | Division Director (DHI) - DHI Water and environment, Marine and Coastal Division |
| 2003 - 2009 | Head of DTU Civil Engineering Department (DTU Byg) - Technical University of Denmark, Civil Engineering |
| 2009 - | Director of Facilities (DTU CAS) - Technical University of Denmark, Campus Service |
Languages
Danish: Native , English: Excellent , German: Reads and understands reasonably , Spanish: Reads and understands some
Expertise
- General management and leadership - Facilities management - Management of research and education in civil engineering - Environmental impact assessment - Hydraulic engineering and applied oceanography
International experience
Management, supervision, collaborative research and business development for a number of projects undertaken in: India (various cities) 1999-2008, Azerbaijan (Baku) 2003, Saudi Arabia (Damman) 2002, Panama (Colón, Panamá City) 2001, China (Shanghai) 1994 and 2001, Viet Nam (Ha Noi) 1999, Costa Rica (San Jose) 1999, Venezuela (Maracaibo) 1998, Indonesia (Bali) 1997, Algeria (Algers) 1993, Chile (various cities) 1991 and in several cities in Europe and USA.
Other information
Appointments and elections
Realdania. Elected member of Board of Representatives, 2010-date
Danish Academy of Technical Sciences. Chairman of the Academy Council (Akademirådet) and member of The Executive Body, 2010-date
Realdania Centre for Facilities Management. Chairman of centre committee for 2007-10 and member 2010-date
Claus Anders' Foundation (Founder: Anders Kerrn-Jespersen). Special advisor for the board, 2010-date
KAB foundation, www.kabfonden.dk, Board member 2006-2010
IPU, www.ipu.dk, Board member 2007-2009,
Danish Enterprise and Construction Authority, EBST, committee on Innovation in Construction R&D, KIG, DTU representative 2007-2009
Danish Enterprise and Construction Authority, EBST, Partnership for Energy Efficient Building, DTU representative 2008-2009
Steering committee for national Construction Technology Platform ECTP-Denmark, www.ectp.org, Member 2004-09
ATV group 8 on "The future of the construction sector" Member 2006-08
Appointed Examiner, Aalborg University, Denmark, 1991-2003
Appointed Examiner, Technical University of Denmark (DTU), 1990-2003
Danish Advisory Committee for the EU 5th FWP Activity: Energy, -Environment and Sustainable Development, 1998-2002.
Danish National Council on Oceanology, 1997-2002
Danish EuroGOOS Member and co-founder of 1997-1999
Swedish Vattendomstol (Water Court) evaluation of the Øresund Link, Expert nominated 1994-1997
Steering Committee for final reporting of the Danish marine research programme "Hav90", 1996.
Danish Society of Hydraulic Engineering, Board member 1991-1995
Institute of Hydrodynamics and Hydraulic Engineering, DTU, Board member 1981-1984
Senate (Konsistorium) of the Technical University of Denmark, DTU, Member 1979
Polyteknisk Forening, Chairman 1979
Short courses
Several short management and ICT courses
Occupational safety and health at the workplace, 2004
DiEU, Economy for non economist, 1997
Memberships
Danish Academy of Technical Sciences, ATV, 2007- date
Danish Academy of Future Research, 2006 - date
The Society of Danish Engineers, IDA, 1980 - date
Danish Network for Research Managers, FL1, 2006 - 2009
Reviewer
Journal of Coastal Research, 2005-2009
Ecological Modelling, 2004-2009
Employment
2009-date: Director of Facilities, Technical University of Denmark, www.cas.dtu.dk: Strategic management, heading implementation of new Campus Plan and associated building projects. Staff: 160, turnover: 883.4 mio. DKK (2011).
2003-09: Head of Civil Engineering Department, Technical University of Denmark, www.byg.dtu.dk: Strategic management, implementing new strategy and generational change for the department. Manager for the International Research School in Civil Engineering at DTU Civil Engineering. Staff: 179, turnover: 114.7 mio. DKK (2009).
1984-2003: DHI Water & Environment, www.dhigroup.com: First research engineer, then head of department, finally division director responsible for economy, staff and strategy. Project director for DHI's hydraulic engineering and environmental consultancy for the Great Belt Link and the Øresund Link, developed the so-called "Zero Impact Solution" which guaranties no environmental impact on the Baltic Sea from the two fixed links, headed the development of DHI's water forecast services. Work experience from a number of countries in and outside of Europe. In 2001 founding director for DHI's subsidiary in New Delhi, India. Staff: 101, turnover: 101.3 mio. DKK (2003).
My files
Published

Publication: Research - peer-review › Article in proceedings – Annual report year: 2012

Published

Publication: Research - peer-review › Book chapter – Annual report year: 2009

Published

Publication: Research › Report – Annual report year: 2009
ISSNs: 0908-7761

Denmark

ISI indexed (2013): ISI indexed no

Central database

Journal

Kluwer

Local database

Journal
Central database

Publisher
Download as:
Download as: To download, please limit the number of search results to 1,000 or less.
Place of employment
Latest activities and conferences
ID: 2163337