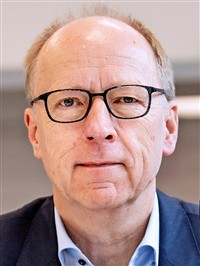 Erling Halfdan Stenby
Head of Department
Kemitorvet 207, Building 206, 240
2800, Kgs. Lyngby
On 1 May 2010 appointed Head of Department for Department of Chemistry.
Department of Chemistry has a wide range of educational and research activities which are decribed at http://www.kemi.dtu.dk/English.aspx
As of September 2009 I am the Center Director of the new Center for Energy Resources Engineering (CERE). This center is a further development of Center for Phase Equilibria and Separation Processes (IVC-SEP), of which I was the Director from 1994.
CERE is involved in applied thermodynamics, colloid & interface science, geology and scientific computing. It combines a range of discipplines that are of great importance for oil, gas, carbon capture and storage (CCS), as well as geothermal energy. Further more the center is engaged in generic research in the basic disciplines. CERE has acitivities at DTU Chemistry, DTU Chemical Engineering, DTU Informatics, and DTU Environment. www.cere.dtu.dk
My main effort is now heading the Department of Chemistry and being the director of CERE.
CV
Education
| | |
| --- | --- |
| 1983 - 1985 | PhD in Chemical Engineering - Technical University of Denmark |
| 1976 - 1982 | MSc in Chemical Engineering - Technical Univeristy of Denmark |
Academic grades
PhD in Chemical Engineering
Professional experience
| | |
| --- | --- |
| 2009 - | Director of the Center for Energy Resources Engineering DTU (DTU CERE) - Technical University of Denmark |
| 1996 - | Professor of Applied Thermodynamics (DTU) - Technical University of Denmark, Department of Chemical and Biochemical Engineering |
| 1991 - 1996 | Associate Professor (DTU) - Technical University of Denmark, Department of Chemical Engineering |
| 1987 - 1991 | Assistant Professor (DTU) - Technical University of Denmark, Department of Chemical Engineering |
Expertise
Applied Thermodynamics Petroleum Engineering Enhanced Oil Recovery Carbon Capture and Storage
International experience
1993-1994 Visiting Professor at the University of Pau, France
Other information
2003-05 Chairman of the Danish Technical Research Council (STVF); Vice Chairman 2001-03; Member 2000-2005 2005-06 Chairman of the Danish Council for Technology and Production Research (FTP) 2007- Chairman of the Executive Committee of the IEA Collaborative Project on Enhanced Oil Recovery
My files
Submitted

Publication: Research › Ph.d. thesis – Annual report year: 2013

Published

Publication: Research - peer-review › Journal article – Annual report year: 2013

Published

Publication: Research - peer-review › Journal article – Annual report year: 2013
Central database

Publisher
Activity: Lecture and oral contribution
ISSNs: 0378-3812

Elsevier BV, Netherlands

FI (2012): 2, ISI indexed (2012): yes

Central database

Journal

ISSNs: 0888-5885

American Chemical Society, United States

FI (2012): 2, ISI indexed (2012): yes

Central database

Journal

ISSNs: 0169-3913

Springer Netherlands, Netherlands

FI (2012): 1, ISI indexed (2012): yes

Central database

Journal
Latest activities and conferences
ID: 2194987