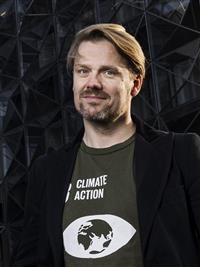 Christian Thuesen
Associate Professor
Produktionstorvet
Building: 424, 124
2800 Lyngby
Denmark
Throughout the years I have become more and more aware of projects centrality in today's society and especially in relation to engineering work. Organization of activities in projects is becoming more widely used to solve large complex problems and thus is this form of organization ubiquitous in societal organizations, businesses and to individuals. Since the vast majority of engineers is concerned with problem solving at all levels of society, project work has become the primary working method for engineers.
I have experienced this from my background in the construction industry (
NCC
) – which might be one of the most project oriented industries, but also from my former work as a programmer in an IT start-up company (
Kapow Technologies
). Here projects were everywhere in the software development pro-cess but more interesting I found it present in the whole nature of start-ups. Projects are thus highly relevant in the production settings like construction, but also in innovation and entrepreneurial settings.
Throughout my research and other professional activities e.g. in NCC I have been deeply interested in the practices of organizing and managing projects. However instead of having an explicit focus on Project Management I have addressed the field by focusing on diverse perspectives such as Organizational Learning and Knowledge Management (e.g. Thuesen 2006), Innovation and Business devel-opment (e.g. Thuesen & Koch 2011), and Industrialization, Platform thinking, and Mass-customization (e.g. Thuesen & Hvam 2011). These different perspectives have shed light on some of the fundamental challenges of Project Management and raised strategies for developing new practices of Project Management.
Based on an interest in understanding and improving existing practices of management in construction (e.g. Thuesen et al 2009) a theme have emerged from my research which appears to have a much broader relevance in relation to Project Management – the dilemma of balancing creativity and productivity. As a strategy for addressing this dilemma, I am currently working on a reinterpretation of the modularity concept which will be compatible with the "nature" of project organizing and management (e.g. Thuesen 2012).
However, the challenges of Project Management cannot be isolated to a single dilemma especially if we look upon Project Management in different engineering domains. It is thus important to develop a research approach which is open towards the role of the context and capable of understanding the sit-uated nature of practices.
Throughout my research I have developed a solid platform for conducting practice-based research which inherently draws upon qualitative methods (e.g. Thuesen 2006 and 2012). My intention is to develop a research agenda within Project Management drawing upon this practice-based platform com-bined with Qualitative Comparative Analysis (QCA). By combing detailed case studies of Project Management practices with advanced cross-case comparisons it will be possible to identify hidden characteristics of Project Management practices and thereby increase the understanding of the field and give guidance to the development of new practices.
But the research will only become valuable if it is implemented the future practices of engineers. Thus teaching Project Management is a core stone in engineering education.
The adaption of practice-based theory in my Ph.D. has given me an in-depth theoretical understanding of learning processes as something inherently social, closely coupled to the creation of identity and fa-cilitated by active participation. This platform has together with participation in the central teacher training courses at DTU enabled me to develop a reflective and curious teaching practice which fo-cuses on active participation, adapted theories and real life cases from the industry.
Since I started at DTU I have gradually gained experience in the "fine art" of teaching. In this devel-opment I have become acquainted with teaching at all levels. Thus I have been responsible for development, planning and execution of Project Management related courses at various levels. This includes teaching at DTUs "
Master in Construction Management
" and the continuous education program "
Design and Management of Network Projects
", the basic and advanced course in Project Management (
42430
&
42246
) and at the
Industrial Ph.D. course
.
For further information se my linkedIn profile http://www.linkedin.com/in/matute
Published

Publication: Research › Report – Annual report year: 2015

Published

Publication: Research - peer-review › Article in proceedings – Annual report year: 2014

Published

Publication: Research › Report – Annual report year: 2014
Routledge, 0-04, 0-415, 0-7100, 1-85728, 0-86861, 0-87830, 0-419

Central database

Publisher

Springer, 0-387, 1-85233, 0-8176, 1-84628

Central database

Publisher
Activity: Participation in council, board, committee and network › Membership in committee, council, board

Activity: Participation in council, board, committee and network › Membership in board of company or public organisation
ISSNs: 1874-8368, 18748368

Bentham Open, Netherlands

BFI (2015): BFI-level 1, ISI indexed (2013): ISI indexed no

Central database

Journal

ISSNs: 1740-2891, 17402891

ISSNs (Electronic): 1740-2905

Inderscience Publishers, United Kingdom

BFI (2015): BFI-level 1, ISI indexed (2013): ISI indexed no

Central database

Journal

ISSNs: 1076-0431

ISSNs (Electronic): 1943-5568

American Society of Civil Engineers, United States

BFI (2015): BFI-level 2, ISI indexed (2013): ISI indexed no

Central database

Journal
Download as:
Download as: To download, please limit the number of search results to 1,000 or less.
Place of employment
Latest activities and conferences
ID: 2168087