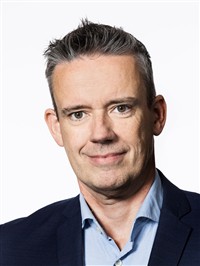 Allan Larsen
Associate Professor
Bygningstorvet 116B, Building 115, 003
2800, Kgs. Lyngby
Allan Larsen is Heading the section of Transport Optimisation and Transport Engineering at DTU Transport. Allan Larsen holds a position as an Associate Professor in transport optimisation and transport engineering. His primary research interests include:
Application of optimisation methods for solving complex transport planning problems

The study of scheduling and operations in freight transport and logistics

Optimisation within public transport, i.e. planning and optimisation of resources such as crew and fleets

Disruption/recovery management in passenger as well as freight transport
Also, Allan Larsen is the Head of Education for DTU Transport and holds the coordination of all educational activities at the department.
CV
Education
| | |
| --- | --- |
| 1997 - 1999 | Ph.D. in Operations Research - Technical University of Denmark |
| 1989 - 1995 | Master of science in engineering - Technical University of Denmark |
Academic grades
M.Sc. in Engineering, Ph.D.
Professional experience
| | |
| --- | --- |
| 2005 - | Associate Professor - Technical University of Denmark, Centre for Traffic and Transport |
| 2003 - 2005 | Assistant Professor - Technical University of Denmark, Centre for Traffic and Transport |
| 2000 - 2002 | Assistant Professor - Technical University of Denmark, Informatics and Mathematical Modelling |
Languages
English, fluently in speech and writing
Expertise
Operations research, optimization, optimisation, transport planing, traffic planning, airline disruption management, crew scheduling, dynamic vehicle routing, vehicle scheduling, timetabling
International experience
January-June 1998: Visiting Ph.D.-student at the Operations Research Centre, Massachusetts Institute of Technology, USA
Published

Publication: Research - peer-review › Conference article – Annual report year: 2012

Published

Publication: Research › Journal article – Annual report year: 2011

Published

Publication: Research › Conference abstract for conference – Annual report year: 2011
ISSNs: 0041-1655

Institute for Operations Research and the Management Sciences (I N F O R M S), United States

FI (2012): 2, ISI indexed (2012): yes

Central database

Journal

ISSNs: 0969-6997

Pergamon, United Kingdom

FI (2012): 1, ISI indexed (2012): yes

Central database

Journal

ISSNs: 0305-0548

Pergamon, United Kingdom

FI (2012): 1, ISI indexed (2012): yes

Central database

Journal
Central database

Publisher
Latest activities and conferences
ID: 2193046