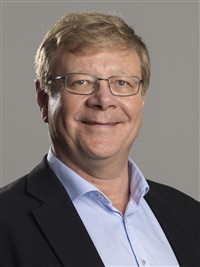 Allan Hornstrup
Head of Astrophysics
Elektrovej, Building 327, 206
2800, Kgs. Lyngby
Phone: 45259722
Fax: 45259575
CV
Education
| | |
| --- | --- |
| Octo - Octo | Innovation Leadership - Univ. Cal. Berkeley |
| 2010 - 2012 | The DTU Management and Leadership Training Program - DTU |
| 2009 - | Educational Supervisor - Technical University of Denmark |
| 1986 - 1989 | Lic Techn (PhD) - Technical University of Denmark |
| 1985 - 1985 | Educational Theory and Practice, math, phys - Ministry of Education |
| 1976 - 1985 | Math, Phys, astronomy - Copenhagen University |
Academic grades
Professional experience
| | |
| --- | --- |
| 2012 - | Also Study Leader Bachelor in Earth and Space Physics and Engineering (study leader) - DTU Space |
| 2008 - | Also IT coordinator, Educational Coordinator (DTU Space) - National Space Institute |
| 2007 - | Head of Astrophysics section (DTU Space) - National Space Institute, Astrophysics |
| 2006 - 2007 | Astrophysics Scientist (DNSC) - Danish National Space Center, Astrophysics |
| 2003 - 2006 | Astrophysics Scientist (partly on leave) (DNSC) - Danish National Space Center, Astrophysics |
| 1997 - 2003 | Head of IT section (DSRI) - Danish Space Research Institute, IT function |
| 1989 - 1997 | Project Scientist (DSRI) - Danish Space Research Institute |
| 1986 - 1989 | Licentiat (DTH) - Danmarks Tekniske Højskole, Institut for teknisk fysik |
| 1985 - 1986 | Scientist (DSRI) - Danish Space Research Institute |
| 1985 - 1985 | Pædagogikum - Ministry of Education |
Languages
Danish, English, German, Some French, Spanish and Russian
Expertise
X-ray telescopes, usage, design and developments.
Usage of international facilities such as optical telescopes, X-ray and synchrotron facilities.
Member of Danish Corpse of Physics Censors (2003-).
Visiting teacher at Copenhagen University (Astrophysics).
Study leader at DTU.
International experience
Publications (2012): 85, h-index: 22.
TIC (Technical Implementation Committee) chairman for SRG project (1990-2000)
Chair of In-Flight Calibration Group on SRG project (1995-2000)
Member of International Science Operations Group, SRG project (1995-2000)
CoI on INTEGRAL science data center, Geneva (1994-1999)
Member of NuSTAR Science Team (2008-)
CoI on JANUS (a NASA SMEX project).
CoI on MIRI science team, a JWST instrument
Other information
Member of committees, boards etc:
Member of board for Ground Based Astronomical Instrument Centre (IJAF) (-2002).
Member of Danish Astronomical Committee (2002- ).
Member of board for Instrument Center for Danish Astronomy (IDA) (2007- ).
Member of board for Danish Space Research Institute ( 1998-2003).
Member of board for Technical University of Denmark (2007-2008).
Appointed author and editor of The Great Danish Encyclopedia (1995-2008).
Published

Publication: Research - peer-review › Journal article – Annual report year: 2013

Published

Publication: Research - peer-review › Journal article – Annual report year: 2013

Published

Publication: Research - peer-review › Journal article – Annual report year: 2013
Central database

Publisher
Activity: Lecture and oral contribution

Activity: Lecture and oral contribution

Activity: Lecture and oral contribution
ISSNs: 0004-6361

E D P Sciences, France

FI (2012): 2, ISI indexed (2012): yes

Central database

Journal

ISSNs: 0004-637X

Institute of Physics Publishing, Inc, United States

FI (2012): 2, ISI indexed (2012): yes

Central database

Journal

ISSNs: 1605-7422, 0277-786X, 0277-786X

S P I E - International Society for Optical Engineering, United States

FI (2012): 1, ISI indexed (2012): no

Central database

Journal
Latest activities and conferences
ID: 1153933